Dennis Strong Wins Prestigious ITE Award...
At the January 25th Annual Banquet of the Illinois Section of ITE (Institute of Transportation Engineers), Dennis Strong was presented with the Past President's Award for Exceptional Service in recognition of his many contributions over the last 35 years to the profession of traffic and transportation engineering.
Dennis was applauded for, among other efforts:
His contributions to the Transportation Research Board's Committee on Capacity and Quality of Service, publishers of the Highway Capacity Manual, including -
his leadership as past chairman of the Signalized Intersection Subcommittee, and
his contributions to the last three editions of the Highway Capacity Manual.
His dynamic professional training in the areas of traffic analysis and the use of computers -
he developed and taught ITE's first class using PC's in 1982, and
he continues to develop and teach popular courses about traffic engineering and computers around the country and the world.
Most notably, for his development and continued evolution of the Visual TEAPAC suite of fully-integrated traffic and transportation software, popular throughout the U.S. and worldwide -
in the 1970's he pioneered the concept of fully-integrated traffic software that shares both input and results so the burden of data entry and re-entry is not placed on the user, and
the 14 modules of his Visual TEAPAC programs interface with more than a dozen programs by other authors so the multi-scenario integrated concept is extended to other relevant software in the industry.
Dennis is a Fellow of ITE and has been an ITE member since his college years at Purdue University and the University of California, Berkeley. He is a registered Professional Engineer (P.E.) and a registered Professional Traffic Operations Engineer (PTOE). Below is a photo of Dennis (on left) receiving the award.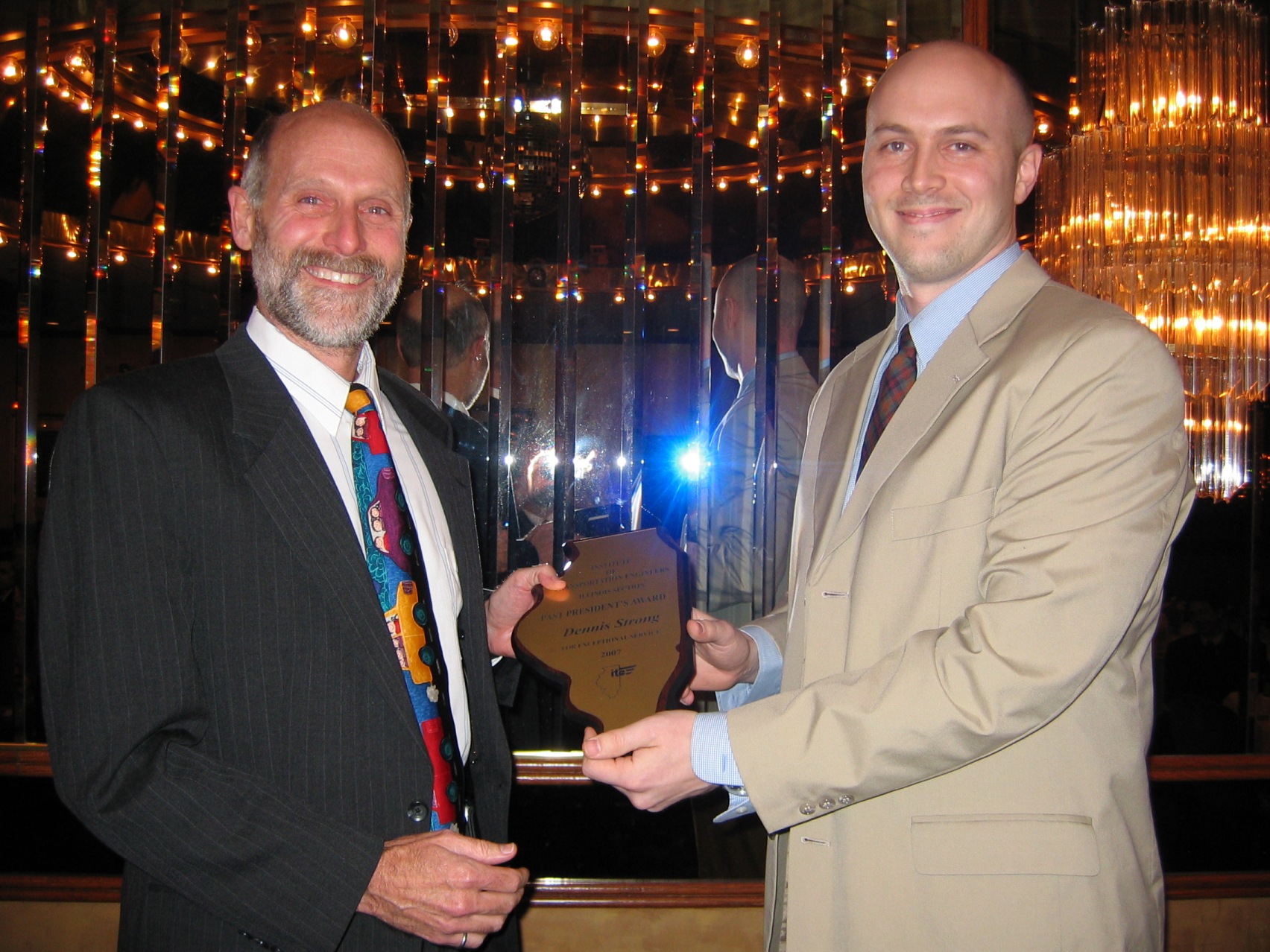 For more details about Dennis' experience and publications, visit the Strong Concepts About Us web page and click on his name to see his resume. For his most recent technical publications about new signalized intersection analysis techniques which will be implemented in the upcoming 2010 Highway Capacity Manual, go to the Strong Concepts Publications web page. Information about the latest training opportunities for the professional development courses developed by Mr. Strong can be seen at the Training Calendar web page. The TEAPAC Complete integrated software package can be reviewed at the Products web page, with a detailed flowchart of the suite's data integration here.
Home | About Us | Products | Distributors | Demo Software | Price List | Ordering Information | FAQs | Training/Events Calendar | Publications | Related Sites | Contact Us | Join Our Mailing List
this page last updated September 03, 2008